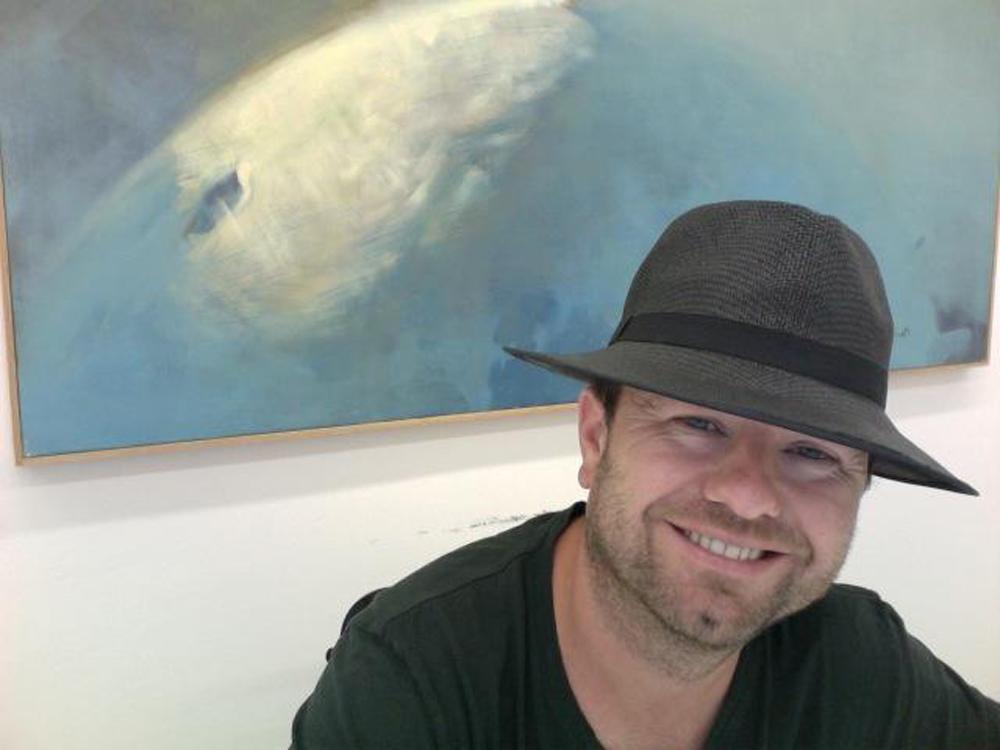 Mariusz Stokowiec's, Polish artist, gallerist and collector was born in Europe Luban Slaski (Poland) in 1971. He arrived in Greece in 1988 and choose the island of Santorini - where he has been based ever since - for it's stunning beauty and volcanic energy. His inclination towards art and architecture found an outlet in building and decorating, particularly in making furniture and remodeling interiors in the traditional Cycladic style,his art gallery is one of the liveliest and most active in Santorini.
His paintings and sculptures have been sold all over the world since 1992. 
In 2002 he designed to open air cinema of Fira, a beautiful yet functional building in the outskirts of Fira town.
He owns galleries in Europe and contributed in many private and public art collections.

From 2011 his Gallery meet famous works of art from different artists, such as,
Philolaos, Costa Coulentianos,Christos Karas , Giorgos Lambru , Fhilippe Scrive , Giannis Pappas ,
Parvine Curie ,Eric Claus, Fanny Ferre,Memos Makris,K.Loukopulos.Francoise Carrasco,Sopho Chkhikvadze,
Papaxristos Andreas,Gabriella Simossi,Giorgos Georgiadis,Francoise Sieffert, Subira Puig,Gabriella Simossi,Yannis Gaitis.

A specially designed room offers the opportunity to privately enjoy your favourite piece of art and imagine it in your space.

MARIUSZ STOKOWIEC'S IS THE LIGHT AND LANDSCAPE OF SANTORINI.
THE MAN WHO SPEAKS WITH WORKS OF ART
HI IS THE MOST IMPORTANT ARTIST CREATING ON THE ISLAND

Is one of the greatest and most influential artists of the 21th century,
his style changed as he experimented with different theories, techniques, and ideas. His revolutionary artistic accomplishments brought him universal renown and immense fortune.
He usually painted from imagination or memory, and worked in many different styles throughout his career. Although he used color as an expressive element, he relied on drawing rather than subtleties of color to create form and space,
in 2012 confirmed art historians' belief that Mariusz used common house paint in many of his paintings.Stokowiec's work is often categorized into periods. , the most commonly accepted periods in his work are the Blue Period,Rose Period,Black & White of Santorini.Tables of this period, dominated white colors and earth tones, and often has a more lyrical and fun. Regarded as the period in which Stokowiec's been more influenced by Greek painting.
Stokowiec's is first and foremost a painter (in fact think that an artist must paint in order to be considered a true artist), also worked with small ceramic and bronze sculptures, and even write poems.


Monts et par Vaux bookstore, Casablanca Pain Gallery, London
 Obèlisk Gallery, London
 Galerie de France, Paris
Exhibition in Athens
The May Salon, Tokyo Atelier Sopho, Lyon Bertha Schaeffer Gallery, New York
Venice Biennale
 Merlin Gallery, Athens The 8th District Theatre (Theâtre du Huitième), Lyon
 Historial Gallery, Nyon, Switzerland (tapestries and sculptures)
 The Châlon-sur-Saône Cultural Center (tapestries and
sculptures)
La Demeure Gallery, Paris (tapestries and sculptures
 Nicole Fourrier Gallery, Lyon
The Art Gallery, Athens
 Nοëlla Gest Gallery, Saint-Remy-de-Provence,
The Amiens Cultural Center,
(tapestries & sculptures)
 Interbureau, Lyon Venice Biennale
 The French Institute, Salonika
The French Institute, Athens
The National Theatre of Marseille, La Criée Medousa Art Gallery, Athens
Epsilon Gallery, Brussels
 Zoumboulakis Gallery, Athens
 The Station Gallery (Galerie de la Gare),
Bonnieux, Vaucluse
The Estrine Hotel, The Van Gogh Art Center,
Saint-Remy-de-Provence Saint Albon Golf Course, Drôme
(monumental sculptures)
Ileana Tounta Contemporary Art Center, Athens
Salonika City Hall, Geni Tzami Cultural Center
Modern Art Museum, Santiago, Chilli (prints)
Presentation at the symposium on sculpture,
Santiago, Chilli
 Retrospective exhibition, Couvent Des Cordeliers, Paris, France
 Exhibition of Monumental Sculptures, Hebert Museum, Grenoble, France
 Retrospective exhibition, Musée de Chintreuil,Pont de Vaux, Ain, France
«Bas-relief»,Medusa Art Gallery,Athens
 Museum of Contemporary Art,Florina.

GREECE OF THE 20TH AND 21ST CENTURY FROM THE EYES OF FAMOUS INTERNATION GREEK ARTISTS








Costas Coulentianos was born in Athens on Athens on December 21,1918 .He studied at the athens school of Fine Arts (ASKT) from 1936 to 1939 . In 1940, he volunteered for the Albanian front,and from 1941-1944,he participated in the Greek resistance.
Coulentianos arrived on Paris 62 years ago (in December 1945) with a scholarship from the French government.
he briefly attended the Paris School of Fine Arts,and studied at Zatkin's studio (le Grande Chaumiere) for a short period as well.
During this time,Coulentianos began to move away from the academic sculptural concepts that he had been taught in Athens.
In 1947 ,he met Henri Laurens, and this relationship had a large influence on the direction he would take in his career.
his sculptures,many made from lead during this period,show Laurens's influence (1947-1952).
In 1952,he focused his work on iron,creating rounded, organic forms.This imprtant period centers on the "acrobat"sculptures (1952-1959).His last acrobat was created in 1959,after which he moved into abstractwork.
He had his first solo exhibition in 1962 at the Galerie de France,which was quite well known at time.An important characteristic of his sculptures of this period (1960s) is the original welding technique with bronze rods melted onto each piece and then polished. Coulentianos also started to work with architects,creating sculptures that were integrated into architecture.He created large,voluminous pieces for public buildings and spaces,as well as numerous mural installations in plaster or concrete from single,repeated block patterns created from polyester molds.
In 1966 ,Coulentianos moved to the center of France,where he built his studio and designed and constructed large looms for the production of tapestries (1969-1975).
This period is also when he began creating his first "bolted"sculptures,which would define the technique he then used to create sculptures during the later part of his life.
He taught at Les Art Deco (Paris)from 1975-1976,and following his move to the south of France in 1979,he taught at the marseille school of Fine Arts (1979-1980).
Between 1979 and 1982,he created a new series of sculptures called "New Generation," with which he represented the Greek exhibit at the Venice Biennale in 1980.
From then on, and for the last fifteen years of his life,he worked very closely with Greece, often having exhibitions,right up through 1991.
Coulentianos takes his place in the history of sculpture as a true artist, both in his expression and his technical prowess.His work stems from an essential theme-woman-as a naked figure:
seated,reclining,or as a standing acrobat or dancer.Steo-by-step,he was drawn to question the traditional concepts he had been taught,and eventually freed himself from expression through the representation of the human form. His work no longer expressed that which can be seen,but instead,showed his creative inner forces.
loyal to his strong roots that determined his early artistic training in Greece, he remained particularly attached to ancient Greek sculpture, and went on to create works that had simplicity,authority,balance,and life force.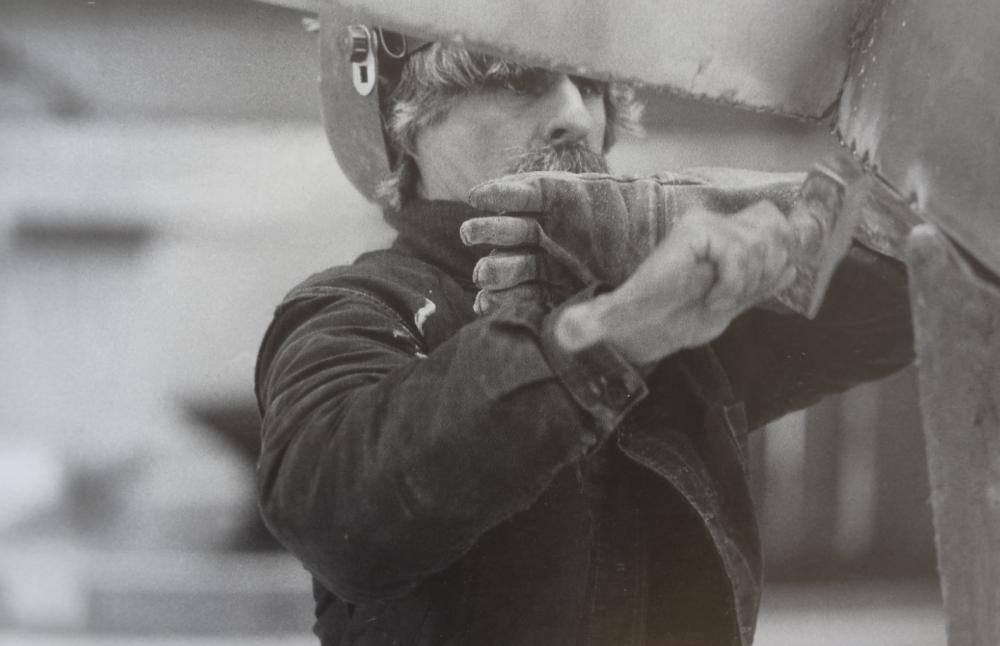 PHILOLAOS (PHILOLAOS TLOUPAS)

(1923-2010)



Born in 1923 in Larisa, Greece, Philolaos studied at the Ecole des Beaux-Arts in Athens from 1944 to 1950. Among his classmates there were the sculptors Michael Tompros and Athanasios Apartis, who were also students of the famous French sculptor Bourntel. After serving his required time with the Greek military, Philolaos moved to Paris, France in 1950, and was granted a scholarship to study at the Ecole Nationale des Beaux-Arts. At around this time, he also began to work in the atelier of the sculptor Marcel.



From 1951-1967, Philolaos taught sculpture at the School of Clair, in the area of San Remi Sevrez, Paris. In 1956, Philolaos created his first public work - a bas-relief called "La Régence" for a project with the decorator Jacques Filacier. The 1960's were a very productive time in his career, and he began collaborations with other architects and designers, who included his sculptures in their landscape commissions.



Philolaos's father was a carpenter and his grandfather had been a brazier, so for the artist, it was quite natural to experiment with different materials, especially as he had enjoyed working in his father's carpentry shop. His experiments there were the foundation of his art. In fact, he first began to work with lead, and then brass, and only adopted steel in 1960. From this point on, his material of choice was stainless steel. He added other materials, such as clay, wood, and marble to compliment the metal and provide added visual interest.



Philolaos preferred to work on a flat surface, where he would stretch, fold, hammer, and solder sheets of metal together. He would "decorate" his pieces by scratching a shiny polished surface, and create added interest by juxtaposing a shiny surface with a dull one.



From 1963 until 1971, he worked on the Chateaux d'eau de Valence, a water tower sculpture in Valencia, under the architect André Gomis. The water reservoirs of Valence are considered to be among the greatest works of his career. Philolaos and Gomis had met several years earlier, in 1959, and their first collaboration lead to a famous fountain sculpture at the local school. In 1992 together with Francois Pierre, Philolaos created a park with his sculptures in the suburbs of Paris.



This work earned him worldwide recognition, and in 1981, he was awarded the Quartier de l'Horloge prize. This prize recognized the Valence water tower as one of the most important urban art works of the 1970s. During his career, Philolaos created important large scale public works throughout France.



Philolaos was honored in 1984, when he was awarded the Medal of Fine Arts from the Architecture Academy of France, and in March 2005, he was appointed an officer under L'Ordre des Arts et Lettres, and had an exhibition of his work at the Jardin du Palais Royal. Philolaos is today considered to be one of the greatest Greek artists of the 20th century.



Philolaos died in September 2010, and his ashes were scattered at his estate in San Remi Sevrez, where he had lived and worked. He considered this sculpture-house in the woods to be his finest piece of art.

He was married to French artist Marina, and his brother was the celebrated photographer Takis Tloupas. In 2009, for the first time in Greece, a large retrospective exhibition of Philolaos's works was organized at the National Gallery in Athens.












Yannis Pappas was born on March 13th, 1913 in Constantinople, son of surgeon Alexandros Pappas and Eleni F. Fotiades. In September 1922, following the disastrous Asia Minor campaign, his family relocated to Athens, after a short sojourn on Corfu. In 1929 he completed his secondary school education at the Third Athens Gymnasium and was awarded the Baccalauréat at the Institut Français in Athens, where he was taught by Octave Merlier.

In 1930, after passing the entrance examinations, he enrolled in the École Supérieure des Beaux-Arts in Paris. Concurrently he also entered the Paris Law School where he studied for two years. Between 1930 and 1932, he was a student at the atelier of Professor Jean Boucher. He then rented his own studio, where he remained until 1939. He continued his studies at the École Supérieure des Beaux-Arts and at the School library, the Museum of Casts and the Louvre, and exhibited at the Salon d' Automne.

Between 1935 and 1938 his output included the bust of painter Andreas Vourloumis, a full-length statue of sculptor Christos Kapralos and a full-length statue of painter Yannis Moralis. In 1937 he was awarded the gold medal at the Paris International Exposition. In 1939 he completed his model for a full-sized statue of Adamantios Korais and exhibited it in Paris. He returned to Greece in order to fulfil his military obligations. He completed his statue of Adamantios Korais in marble - commissioned for the island of Chios.

In 1940 he was awarded the Sculpture Medal in the last Pan-Hellenic Exhibition before the war. On October 28th he was called up and served at the front lines with the rank of private. In April 1941 he returned from the front. During the years of Occupation he worked, as best he could, at his studio in the district of Zographou.

In December 1944 he enlisted in the Greek Royal Navy and served as a sailor in the Alexandria Naval High Command. He remained in Alexandria until 1951, studying the monuments of Egyptian art in Cairo and Upper Egypt. In 1949 he crafted a bronze statue of an athlete for the community stadium of Alexandria (Greek Consulate in Alexandria). In 1950 he had his first one-man exhibition in Alexandria and between 1950 and 1951 crafted a bronze memorial statue of philanthropist Mikes Salvagos for the Greek School of Commerce of Alexandria.

In 1952 he returned to Athens, where in 1953 he was elected professor of the Sculpture Workshops at the Athens School of Fine Arts. In 1954 he became Vice Director of the School for a term of two years. In 1955 he was commissioned to sculpt the memorial to Baron Tossizza for the town of Metsovo, as well four herm columns for the estate of Philippos Argentis on Chios. Between 1957 and 1959 he sculpted the Memorial to the Fallen for the village of Neochori on Chios, a statue of Petros Protopapadakis for the island of Naxos and the monument for Stephanos Delta for the Athens College.

From 1959 to 1969 he served five consecutive two-year terms as Director of the Athens School of Fine Arts. During this period the School developed into a model Institution. The central building of the School was renovated, as well as its underground areas, where the Applied Workshops were established. Workshops were inaugurated for Portable Icons, Art and Mosaics, Decoration and Stage Design, Ceramics, Plaster Technique, Bronze Casting and Engraving, Typography and the Art of the Book. A library room was established. The artistic branches at Delphi, Hydra, Mykonos and Rhodes were renovated, and a branch began operating at Methymne on Lesvos.

In 1960 Pappas held a one-man exhibition of Paintings at the "Armos" Gallery. He crafted the statue of philanthropist Afentakis for the island of Kimolos. Following a Pan-Hellenic competition he was commissioned to sculpt of a full-size memorial statue of Eleftherios Venizelos for Athens. In 1961 he held an outdoor Sculpture exhibition (Doxiades Technological Institute). In 1962-63, after winning the competition, he was awarded the commission to create a statue of Eleftherios Venizelos for the city of Herakleion, Crete. In 1964 he sculpted the statue of Loukis Akritas for the town of Morfou in Cyprus and one of Alexandros Papanastasiou for the Aristotle University of Thessaloniki. Between 1966-67, Pappas sculpted a relief pediment frieze for the façade of a building on Panepistimiou Street, the statue of Nikolaos Plastiras for the town of Tavropos, Karditsa, as well as a statue of an athlete for the Greek Community of Antafagasta, Chile.

Between 1968 and 1974 he crafted the memorial of the Merchant Marine for the town of Ermoupolis on the island of Syros, the bust of Ioannes Sykoutris (for the district of Nea Smyrni) as well as a statue of Archbishop Chrysanthos of Trebizon (for Komotini); and a statue of Liberty for the Stanford University (California). He presented a major exhibition of his painting at the "Ora" Gallery. In 1971 he completed and placed the statue of Eleftherios Venizelos in Athens (Parko Eleftherias – Freedom Park).

In 1972 Pappas was elected corresponding member of the Académie Française.

In 1975-76 he organised an Exhibition of Sculpture and Painting at the Library of the Athens College on the theme of "Children and Youth". He sculpted the bust of Homer Davis for the Athens College, of Andreas Michalakopoulos for the city of Patras, of Achilleas Tzartzanos for the town of Tyrnavos and of Ioannis Kapodistrias for the Panteios School. In 1976 he exhibited his sculpture and drawings at the "Argo" Gallery and sculpted the bust of N. Louros (Alexandras Maternity Clinic).
In 1977 he held an exhibition of paintings on "Views of Aegina" at the "Ora" Gallery. He completed and placed the marble statue of Eleftherios Venizelos in Thessaloniki.
In 1978 he resigned the chair of Sculpture at the Athens School of Fine Arts. The Ministry of Education awarded him the title of Honorary Director of the School. He represented Greece at the Venice Biennale with works of sculpture and painting. In 1979 he crafted a full-size statue of Evangelos Papanoutsos.
In 1980 he was elected a regular member of the Athens Academy.
Between 1981 and 1991 his completed commissions included the following works: A marble statue of Eleftherios Venizelos (in the precinct of the Greek Parliament Building), an equestrian statue of Georgios Karaiskakis; a statue of Evangelos Averoff-Tossizzas (for the town of Metsovo); additionally, for the entrance of The Onasseio Cardiology Centre, reliefs of the donors, a monumental epigraph of the Hippocratic Oath and, in the atrium, an eight-metre bronze column with gilt decoration. He also sculpted the statue of Pantelis Prevelakis (for the Rethymno Town Hall) and his grave memorial at the chapel of Saint John in Rethymno; a statue of General Makrigiannis (in the district of Makrigianni); a statue of Ion Dragoumis (Makedonomachon Square, Thessaloniki); a statue of Odysseus Elytis (Dexameni Square); a statue of Charilaos Trikoupis (for the precinct of the Greek Parliament Building).
In 1992 the National Gallery organised a retrospective of his work. Also taking place simultaneously were an exhibition of his drawings and smaller sculptures and an exhibition entitled "The workshop and a model" at "Gallerie 3".
In May 1999 he held an exhibition of his paintings at the Benaki Museum, where, during the same year he contributed to the exhibition of Fayum-inspired portraits.
He has translated writings by painters and sculptors from the original English, French and Italian into Greek; they are included in the publication "Κείμενα για την Τέχνη" ("Writing on Art") (Nefeli Editions, Athens 1993), as well as poems, prose and essays: F. Nietzsche, "Κείμενα" ("Writings"), (Athens 1998), L. Pirandello, "Δεκαεπτά Διηγήματα" ("Seventeen Short Stories") (Σύλλογος προς Διάδοσιν Ωφελίμων Βιβλίων – The Association for the Promotion of Useful Books, Athens 2000), and Italo Svevo, "Μια φάρσα επιτυχημένη" ("A Successful Prank") (short stories, Poreia Editions)















Loukopoulos Klearhos

Born 1908 in Thermos, Aitolia. Studied at the Athens School of Fine Arts, at the same time attending courses in theatre and music at the National Conservatory. Studied under the sculptor Apartis 1939. His artistic education was substantially enriched by his travels in Europe and America 1934-66. Was an active member of the art groups Armos (1949-53), Alpha (1960-67), the Group for Communication and Education in Art (1976), of which he was also chairman for the first four years, and the Artists' Association (1976). Held 5 solo exhibitions of sculpture and drawing in Athens and Thessaloniki. Took part in more than 35 group exhibitions and international events in Europe and the USA, most notably in the 28th and 33rd Venice Biennale (1956 and 1966 respectively), the 5th Sao Paulo Biennale (1959), and the 3rd Alexandria Biennale in the same year. During the 1960s he and the architect A. Konstantinidis were commissioned by the Greek Tourist Organisation to create a series of works for the Xenia hotels in the towns of Volos, Larissa, Olympia, and Paliouri in Halkidiki. Many public places throughout Greece are adorned by his works, representative examples being: the Martyrdom of St Seraphim (1949) in the Metropolitan Church at Trikala, the busts of Svolos and Kyriakidis in the Aristotle University of Thessaloniki, and the Column in the Ethniki Amyna underground railway station (Athens, 2000). The high quality of his work earned him many prizes. He won a medal at the Panhellenic Exhibition of 1948, and the International Union of Art Critics Prize, sponsored by the Greek section of the Union, in 1963. In 1972 he turned down the National Art Prize as a gesture of protest against the political situation in Greece under the Dictatorship. Died 1995.
Loukopoulos belonged to that generation of Greek sculptors born in the first decade of the 20th century who, having begun their careers in the field of representational art, moved on in the 1950s to abstract modes of expression, intending to bring art in Greece closer to what had been happening for some time in the other countries of the West. So the works of his first creative period were produced under the influence of the teachers at the Athens School of Fine Arts, in particular Thomopoulos.
His move towards abstraction in the late 1950s also signalled a change in his raw materials; from this point on he was to work mainly in metal. The use of a different expressive vocabulary did not, however, alter what had been the key features of his earlier work: solidity and balance of structure. His work up until about 1966 was characterised by a combination of geometrical austerity and curvilinear motifs. In the same period the state commissions for the Greek Tourist Organisation hotels allowed him to create compositions that were monumental in both conception and scale, determined by the constructivist principles of alternation of voids and solids.
This was the direction followed by his work in the period 1966-72. Pure, geometrical volumes are now integrated into sturdy Compositions, some of the subjects making direct reference to pre-classical Greek antiquity.
The years following the fall of the dictatorship saw his work dominated by dense, compact volumes. These abstract works retain none of the representational elements of his early career. In the 1980s, his last creative period, he experimented with materials like plaster, zinc, polystyrene, and wax, creating spaces that convey a sense of fairytale enchantment.
BIBILIOGRAPHY

M. Kalligas, 'Η Πανελλήνιος καλλιτεχνική έκθεσις, Παλαιοί νέοι και νεότατοι', To Βήμα, 23 Nov. 1948 / F. Kontoglou, 'Το μαρτύριο του Αγ. Σεραφείμ', Κιβωτός, No. 2, Feb. 1952 / Ε. Βακαλό, 'Kλέαρχος Λουκόπουλος', Ζυγός, No. 38, Jan. 1959 / P. Petris, 'Ο γλύπτης Λουκόπουλος για τη στροφή του στην αφηρημένη τέχνη', Επιθεώρηση τέχνης, No. 49, Jan. 1959 / Loukopoulos, Athens 1966 / Hellas: Andreou, Georgiadis, Katraki Vaso, Loukopoulos, Mauroidis, XXXIII Venice Biennale 1966 / Κλέαρχος Λουκόπουλος, 32 γλυπτά, Hellenic American Union, Athens, 3-17 Feb. 1972 / E. Andreadi, 'Η γλυπτική του Κ. Λουκόπουλου', To Βήμα 12 Feb. 1972 / K. Loukopoulos, Πάτμος - 15 σχέδια, Desmos Gallery, Athens 1973 / K. Loukopoulos, 'Προτάσεις για μια μεθοδολογία της τέχνης', Θέματα χώρου + τεχνών, No. 4, 1973 / E. Andreadi, 'Τα σχέδια του Λουκόπουλου', To Βήμα, 1 Jan. 1974 / Xydis, vol. I, pp. 121, 185, 211-12, 217, 223, 228, 241, 255-6, 276, 278, 281; vol. II pp. 80-4, 98, 193, 195, 227 / Λουκόπουλος, Zoumboulaki Gallery, Athens 1977 / E. Varopoulou, 'Υλη, ενέργεια και μορφή, τα γλυπτά του Λουκόπουλου στη γκαλερί Ζουμπουλάκη', Αυγή, 21 Oct. 1977 / Spiteris 1979 / S. Lydakis, Ελληνική γλυπτική, Athens, Melissa, 1981 / E. Mavrommatis, 'Hasselt: Η ελληνική γλυπτική στα Europalia', Εικαστικά, No. 12, 1982 / C. Stavropoulos, 'Ο γλύπτης Κλ. Λουκόπουλος', Εικαστικά, No. 30, June 1985 / D. Deliyannis, Κλέαρχος Λουκόπουλος - Από την ακινησία στην πλαστικότητα της χειρονομίας, Athens, Nees Morphes Gallery, Jan. 1986 / Scaltsa 1990, p. 108 / Mykoniatis 1996, pp. 24, 207 / Κ. Λουκόπουλος, Vafopoulos Cultural Centre, Thessaloniki, 4 April - 11 May 1997









Memos Makris (Greek: Μέμος Μακρής, Hungarian: Makrisz Agamemnon) (born April 1 1913 in Patras – died May 26 1993 in Athens) was a prominent Greek sculptor. He spent his early childhood in Patras but his family moved to Athens in 1919. He studied at the Athens School of Fine Arts and soon became involved in the artistic and cultural life of the 1930s. During the German Occupation Makris joined the National Resistance. After the liberation he continued his studies in Paris. He was deported from France in 1950 due to his political allegiance to the Left and sought political asylum in Hungary. In Hungary he became an important figure in the country's political and cultural life. In 1964 he was deprived of his Greek nationality, which he regained in 1975 after the restoration of democracy in Greece. In 1979 his first retrospective exhibition in Greece took place in the National Art Gallery. Some of his monumental sculptures include the one dedicated to the victims of the Mauthausen concentration camp in Austria, the monument to the Hungarian volunteers of the Spanish Civil War in Budapest, the monument of Liberation in Pécs. Many other of his works adorn squares and buildings all over









Georgiadis Giorgos (1934)
BiographyArtworksSolo ExhibitionsGroup ExhibitionsArticlesBooks/Catalogues

He was born in 1934 in Maroussi (Athens). He studied sculpture at the Fine Arts School of Athens, near G. Pappas and M. Tombros (1954-1959). In 1959 he goes to Florence, Italy on a scholarship by Eugenides Foundation and he is taught the art of metal near Bruno Bearzi.
His sculptural style is mainly expressionist and his themes are anthropocentric with symbolist hints. Seated female forms are his dominant theme, often headless, alone or in groups, and in positions indicating physical and mental tension. His technique is complete and rather traditional, with subtle deformations which stress expression. Most of his works are cast in bronze. A humanitarian vein and a critical commentary of social problems characterize his entire work, aesthetically and thematically.
His first solo exhibition was in 1974 in Athens (Nees Morfes gallery). More solo exhibitions would soon follow in Athens, Thessaloniki and other European cities. In 1994, an honorary retrospective exhibition was organized at the Cultural Center of Maroussi.
He has participated in many group exhibitions in Greece and abroad (France, Italy, Egypt, Netherlands, Monaco, Norway, Tai Pei, U.S.A.). In 1984, he represented Greece at the 41st Venice Biennale, along with painter Christos Karas. Part of his work has been created in collaboration with architects for building decoration. His sculptures can also be found in Greek public places.
He has been honored with many awards: 1st sculpture prize at the Nationwide Exhibition (Panelladiki) for Young Artists (1961), a grant from Ford Foundation (1975), 1st sculpture prize at the exhibition Les Arts en Europe (Brussels, 1976), 2nd sculpture prize at the Biennale of Alexandria in the same year, Italian journalists award (Todi, Italy, 1985), gold medal of the Italian Academy of Arts and Sciences of Liguria (1993), etc.
He taught drawing for twenty years at the Athens Technological Institute (1960-1980) and was a member of the Classification and Evaluation Committee of the Greek Chamber of Fine Arts.



Copyright (c) 2009-2013 stokowiecgalleries.com
Created by BxM Multimedia | Tworzenie Stron | bxmadministrator.pl


Gallery Oia,Gallery Santorini,Art,Gallery,Oil Paintings,europe artist,Greek Artist,oia,santorini Greece,water color paintings,STOKOWIEC GALLERY,Stokowiec Gallery,room show paintings,sculptures,original artworks,greece santorini island oia,mariusz stokowiec museum paintings,mariusz stokowiec,Nana Gugunashvili,shop on line,oia,museum stokowiec,museum oil paintings,santorini,oia,greece,paintings,celebrity,hotel,Oleksyuk Sergiy,santorini,santorini,santorini,gay,paintings santorini,art gallery,santorini,island,santorini,greece,paintings,stokowiecgalleries.
:: Privacy policy ::